A special Bright Pink Bunny Story for you to enjoy . . .
Bright Bunnies Visit the Ocean
A Bunny Field Trip
One warm day, the Bright Pink Bunny and the Bright Green Bunny decided to visit the ocean. They hopped quickly to the place where the sand began. They hopped carefully over the sand dunes. Then they hopped slowly through the sea grass growing in the dunes. When they heard a gentle bird song, they hopped quietly. Then they stopped to listen.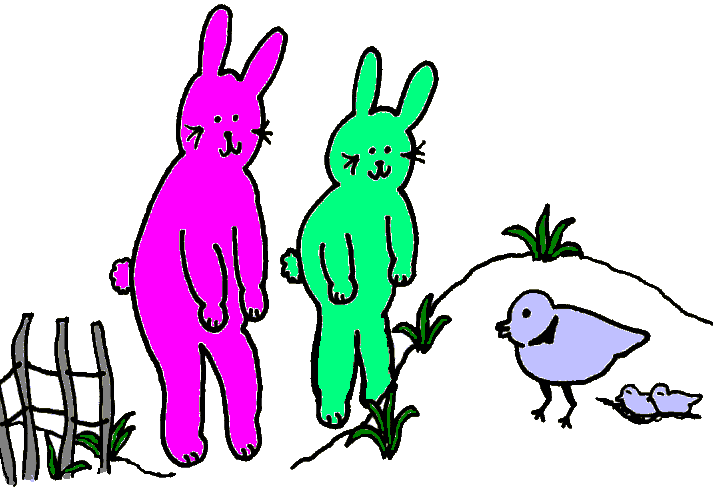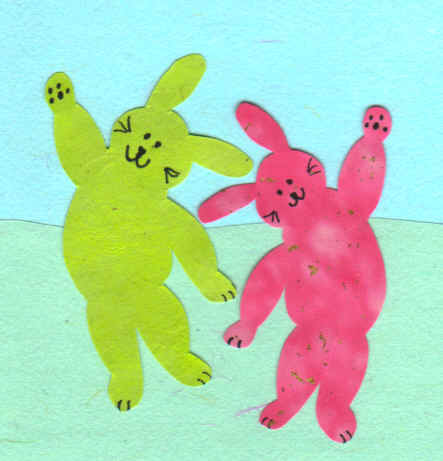 The Bright Pink Bunny Library
More Bright Bunny Stories to Enjoy:

3 ways to make your own Bright Bunny Book!
Get ready to exercise with our
second print & decorate book.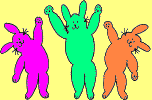 Start with the cover & follow links for each page.
The story in pictures ... add your own words!
Bright Bunnies Exercise
The story told with simple sentences...
Exercise with the Bright Bunnies!
or an expanded vocabulary...
Bright Bunnies Love to Exercise
Just print the cover & five pages, trim & decorate. Important: only trim off the top, bottom and right sides! (You need the left margin to punch holes, glue or tie the book together.)
To finish the book, you can stitch them together, punch holes & tie them with ribbons or glue each page to larger construction paper (stitch, tie or tape).
A special Bright Pink Bunny Story for you to make . . .
The Bright Pink Bunny Gathers Flower Seeds
Print a simple autumn story with simple sentences. Print and decorate pages to make your own book!
Simple Gifts
Or, enjoy the same illustrations with an expanded text. Print & decorate! Flower Seeds

Share an Illumination Night party with the Bright Pink Bunny & Friends! It is a wonderful way to enjoy the end of summer & the beginning of autumn! Illumination Night